BLASTRONAUT
DevLog 4: Making the Key Art
---
Hi everyone

Today I want to share my process of creating the cool looking key art for Blastronaut and later turning it into an animation.
The first step was to make a rough sketch on paper. Because I'm pretty bad at sketching 3D things myself I asked help from a concept artist Raido, who made the following sketch: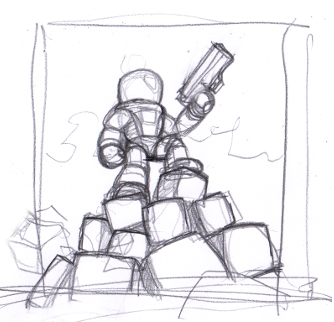 I was instantly loving it, so the next step was to turn it into vector art. For this, my tool of choice is Affinity Designer, which is an amazing program, it is easy to learn, has a ton of features and just only a one-time payment of 55€ (currently on sale for 50% off - 28€). Can't recommend it enough: https://affinity.serif.com/en-us/
After a day of tinkering, I had the first version of the artwork which looked like this: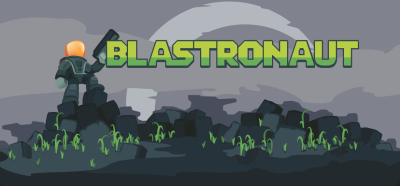 I thought it looked ok, but nothing special yet. However, at that point, I was out of ideas and didn't know how to improve it any further. So I shared it with other people in Discord and received a lot of simple but supper necessary suggestions. It took me just a couple of hours to add all those things but the effort was definitely worth it: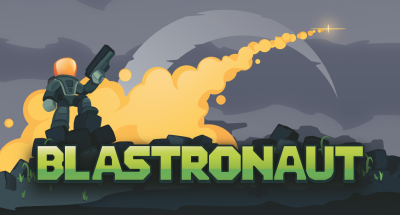 So now I was quite happy with how it looked and started exporting it to Steam and Itch.io. However, midway through the process, I saw a huge problem with the artwork - the gun looks too much like a real-world gun. But this would misrepresent the game as it is not actually about shooting people but instead spraying an explosive gel to cause huge explosions and mine ores. So I changed it.
But now I also needed to replace all the previously exported artwork again. Luckily affinity designer has this great feature for defining multiple slices and exporting them all at once. It saved me so much time.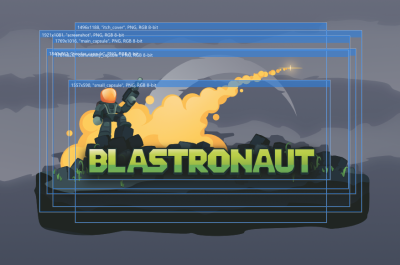 At this point, I had made multiple artboards for different formats so altogether there were more than 20 slices.

So in the end this is how the art looks like, and now it is just a matter of time to see if it increases the click-through rate or not. Here is how the Itch.io Cover looks before and after:

In the next DevLog, I will tell you how I turned this image into an animation.

See you soon!